Are you ready to level up your coaching game?
It has never been easier to find the sweet-spot manual for people from 3 to 103!
If you help people grow, this book is for you!
Sounds like my kind of book!
Yes, You Can Coach Anyone
When You Have their
8-Minute Growth Guide
SOMETIMES PEOPLE ARE LIKE WET WOOD.
THE MORE YOU TRY TO LIGHT A FIRE UNDER THEM, THE MORE SMOKE YOU GET IN YOUR EYES.
Even the most skillful coach, counselor, parent, teacher, or pastor knows the sting of pushback. It burns like smoke in our eyes when someone shuts down or lashes out at our best efforts to help them. We are up against the number one barrier to growth:
People don't grow when they think someone is trying to change them.
Thankfully, there is a way around this obstacle—discovering and working with each person's God-given design instead of against it. And it doesn't take hours to figure out what makes them tick!
In only 8 minutes, you can find
the three critical dimensions of any personality type—even in the most stubborn or eccentric individuals, complex teams, or hurting families, and
a tailor-made, done-for-you Coaching Guide to bring anyone to maturity at their own pace and along their own pathway.
In Don't Change Them; Grow Them, Hettie Brittz and Annatjie van Zyl introduce the Tall Trees Coaching approach and a brand-new, life-giving language for personality and growth. Chapter by chapter, you'll
exchange confusion and frustration for delight in the uniqueness of people
learn how to liberate children, teens, yourself, and other adults from limiting labels
master four levels of coaching to enrich any individual or relationship in six essential growth areas, and
find your place in the Tall Trees community that doesn't change people but helps them grow in line with their brilliant design.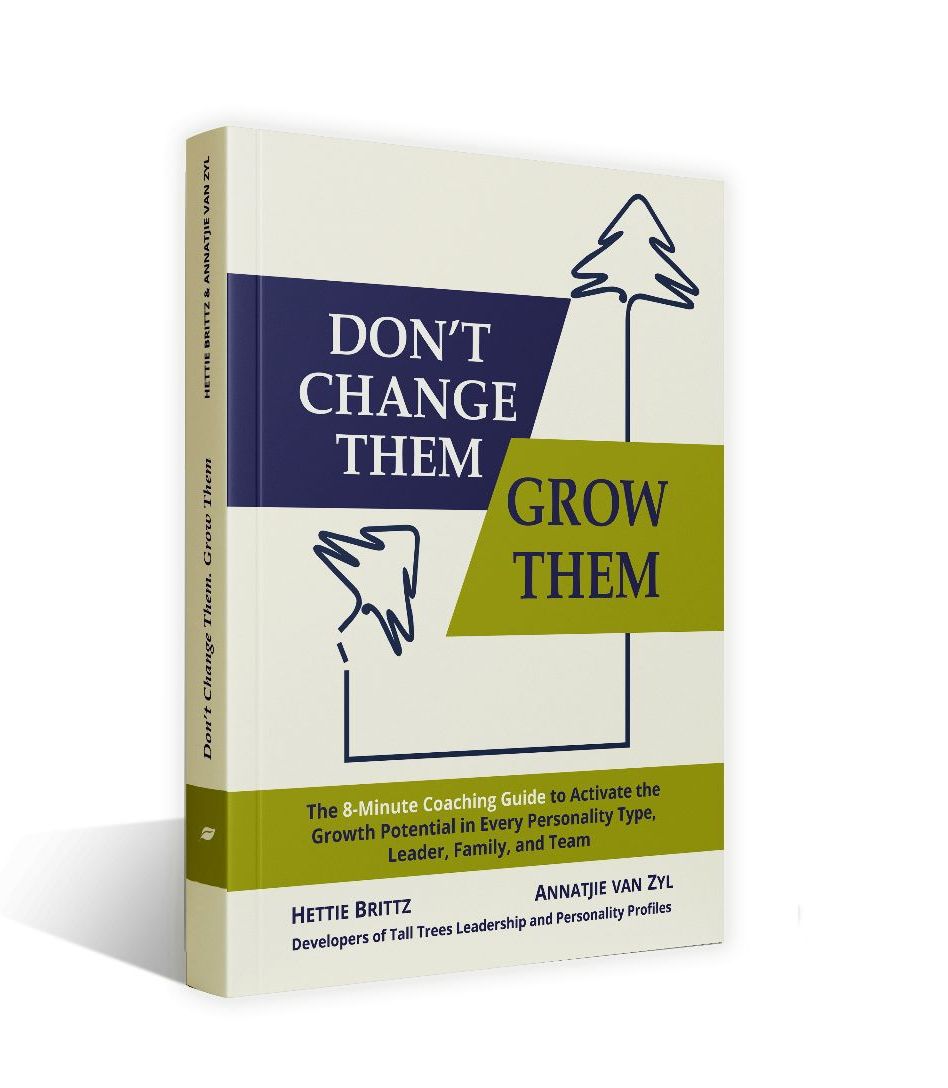 What to Expect from this book
Straight talk about what helps and hinders growth
Actionable and accurate information abut ANY personality type
Hope for even the most stuck, stubborn, or hurt person
Coaching guidelines to make YOUR parenting, leadership, ministry, teaching, coaching, or management of people much easier!
Free Tall Trees resources—including a free test and coaching cheat sheet.
Access to a supportive community of like-minded people
YES, I WANT IN!